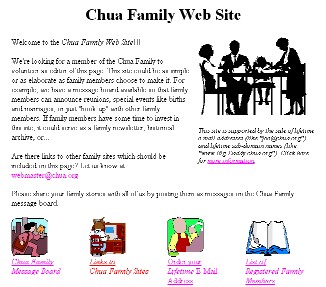 Chua Family Website November 11, 1998
Thanks for visiting the Chua family website, a portal for information about and for the Chua family.

The Chua family website has been on the Internet since November 11, 1998! Back then, we had ambitious plans. First, we established a message board, open to all, which we hoped would be a meeting place for Chua family members. Soon, however, our message board was taken over by vandals and SPAMers. We were forced to shutdown the message board. Today, Yahoo Groups provides a much better message board service than we ever could. We will provide links to Chua family message boards--just let us know.